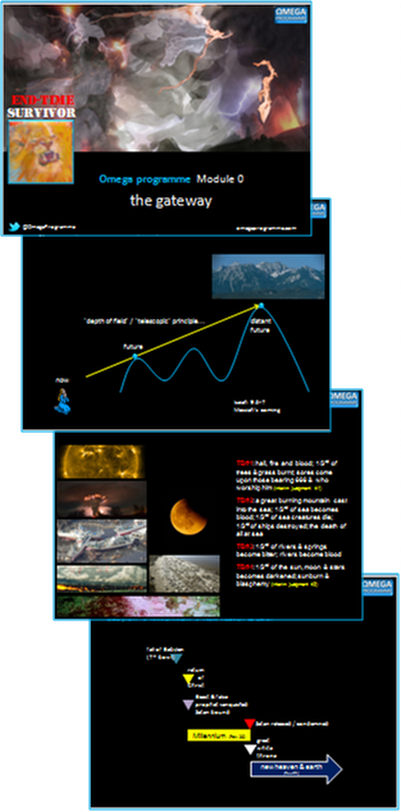 The unique and groundbreaking Omega Programme equips Christians to overcome the challenge of end-time living. It is available in a number of formats, but will primarily be be published in video and audio format. Omega is supplemented by regular teach-ins on the BibleSense YouTube channel. Subscribe for regular updates!
Christians are coming under increasing pressure to compromise their beliefs. Outside the church, 'human rights' and 'equality' legislation, political correctness and changing attitudes mean Western society is becoming less tolerant to Christian lifestyle and witness. Inside the church (including the established, evangelical and charismatic movements) we see a significant move away from sound doctrine into apostasy, the denial of Biblical truth. The recent Coronavirus is most definitely an end-time 'birth pang', potentially the most serious global medical issue since the Spanish Flu of 1919.
The Bible is clear the situation will get worse before it gets better. Jesus told His disciples that 'in the world, you will have trouble, but cheer up, because I have overcome it'. It is vital Christians are not taken by surprise, but make an effort to develop a thorough Biblical understanding of what is to come.
The Omega Programme provides Christians with a solid prophetic scriptural foundation for events to come, and explains how we can prepare. In the short term, we have uploaded the Gateway and first 4 Omega modules in audio format. Please note the videos will be uploaded progressively in the near future.
You alone are responsible for getting yourself ready for the days ahead. Omega complements the book 'End-Time Survivor' to arm you with faith, hope and expectancy to see the end from the beginning, and the return of the King.
Come and join us as we make the journey together. Module 0, the Gateway, gives you a preview the overall programme, an opportunity to decide if you want to commit to the whole.
We promise that you'll never read your Bible in the same way again.
TIP: You'll get far more learning from the session if you download and complete the Module Overview / Preparation Sheet (below the Module overview). Once you've done your homework download the PowerPoint PDF slides, then listen to the audio version. Neil will be progressively adding the video Omega modules over the next few months.
Learning Objectives
The OMEGA programme will enable you to:
understand how the world is changing
appreciate the big picture of end-time prophecy
know how to look for & interpret the signs of the times
consider Israel's relationship to the Church
understand your responsibility to invest in the Kingdom of God
face the future with hope not fear
Omega comprises 11 modules available in audio / video format for personal or home group consumption.
If sufficient demand exists it may occasionally be delivered in person by Neil as required.