The Omega Programme is overseen by a Council of Reference, whose Terms of Reference are to:
Provide a position of accountability and oversight
Act in an advisory capacity
Provide prayer support
Act as an ambassador for the programme
Keith Mason
Keith Mason is a Bible teacher who trained at the Bible College of Wales, Swansea. Keith combines a teaching ministry on a panorama of Biblical truths with a deliverance ministry. His manuals remain popular both in the UK and abroad. He trained many missionaries in the 1980's, and has planted several churches in the U.K.
Keith was the founder of Creative Word Bible College, Rochdale, which trained disciples to equip and prepare for service in these challenging times. Creative Word began as a series of talks given in Rochdale in 1983, and has since grown into a teaching ministry that has reached hundreds of Christians. Keith continues to provide a ministry of pastoral oversight and teaching in his itinerant ministry.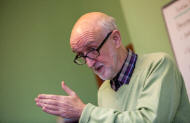 Ken Hepworth
Ken Hepworth is a man with a heart for God's people and a desire to see the Church, both locally and globally, become all it is destined to be in Christ. This passion has placed him at the cutting edge of healing and deliverance issues in his calling and commitment to fully proclaim the Kingdom of God. He has served the local church for over 40 years as evangelist, pastor and latterly as a Bible teacher with an international Discipleship and Healing Ministry. He has been married to Jean since 1965 and has three grown up sons and five grandchildren.
Ken has been one of Ellel Ministries' key teachers. His experience enabled him to write one of the most informative books available on spiritual warfare, Reclaiming the Ground. More recently Ken has worked for 5 years as UK Chairman for Ebenezer Operation Exodus, and organisation dedicated to helping Jewish people return to Israel. Ken recently published his latest book 'Their blood still cries out', which addresses the cleansing of lives and land from the consequences of anti-Semitism.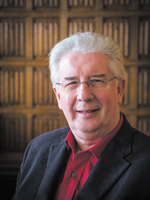 Dr David Elms
David Elms has been the UK Director for the International Christian Embassy Jerusalem for many years. He has helped to establish strong links with the Jewish community in the UK. He is an international spokesman for ICEJ, and has helped to establish branches in Italy and Romania.
For over forty years he has pastored in Liverpool, and was on the City Leadership Team and a director of the Christian school. He is a pastor to pastors. He holds two doctorates in theology and is married to Gwyneth.