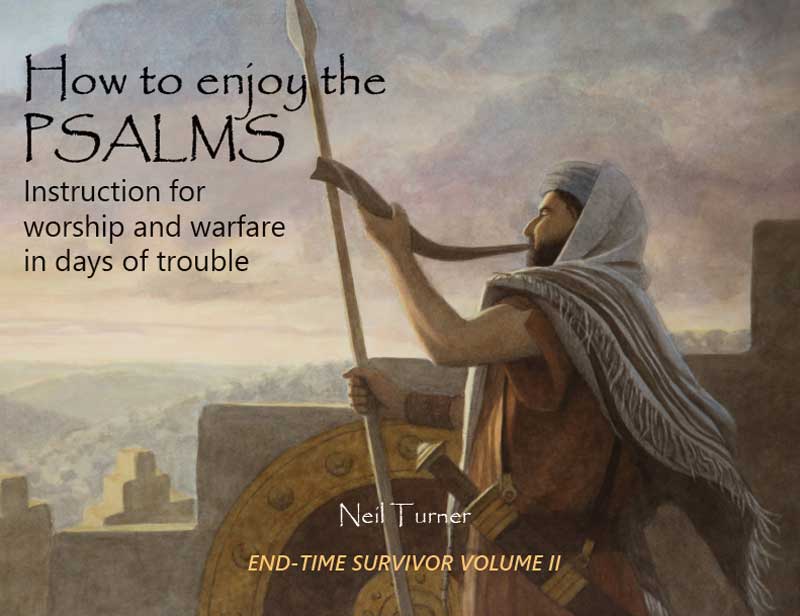 Book Review here 'How wonderful to find a book that is pure gold from start to finish. In my view, How to Enjoy the Psalms: Instruction for worship and warfare in days of trouble, by teacher and author Neil Turner, is just such a treasure … I believe that this is an inspired and inspirational tour de force that deserves our close attention. After a preaching ministry spanning almost six decades, I have begun to look at the Psalms in a whole new way; working through Turner's book is proving to be a real blessing.'

Chris Hill – Prophecy Today.
Psalms is the longest book in the Bible, written over a more extensive period than any other in Scripture, from the time of Moses through to a few centuries before Christ's incarnation. It sits in the middle of your Bible for a reason. Most Bible students hurry through a daily psalm, but aren't aware of the divine pattern and purpose hidden in each of its five volumes.
Neil Turner, prophetic teacher and author of 'End-Time Survivor' and the Omega Programme explains how – in days of tremendous personal and national stress – the Psalms were written by overcomers, men whose faith endured and triumphed over great pressure. Their gift to us, under the anointing of the Holy Spirit, was a treasury for worship and a manual for effective spiritual warfare, so the people of God may be powerfully equipped to overcome and endure to the end of the age.
Every Psalm has been carefully summarised and classified using a unique system of easy to reference icons, building into a summary which reveals the intent and context of each of the Psalms' five volumes. A comprehensive system of more than 400 footnotes complements the text.
HOW TO ENJOY THE PSALMS explains:
the chronology, structure and layout of the five volumes.
who wrote and edited the Psalms.
important keys such as numbers, first mentions & Names of God.
the meaning of 'technical' words such as Shoshannim, Maschil & Selah.
how the Psalms have been used throughout history in Israel & Church.
their prophetic end-time application.
next steps – how to employ the Psalms with greatest effect.
'How to enjoy the Psalms' is an inspirational study guide to aid your understanding of these 3000-year-old songs, enhance personal and corporate worship, provide food for meditation and deeper study, heavy ammunition for intercession and strengthen your faith in increasingly difficult times.