We currently have live programmes operating in the Midlands and North West England.
SPECIAL MOVIE EVENT – PATTERNS OF EVIDENCE – EXODUS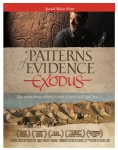 The credibility of the Bible is under attack. Many experts say there is no archaeological evidence for events like the Exodus. They claim these stories are just myths.
But that is about to change. Twelve years in the making, the critically acclaimed film Patterns of Evidence: The Exodus presents convincing new evidence that clearly matches the Biblical account!
Investigative filmmaker Timothy Mahoney journeyed to Egypt, Israel and throughout the world in search of answers to one very important question: Did the Exodus, as written in the Bible, really happen? What he finds is astounding! A pattern of evidence matching the six major events recorded in the Bible.
Watch Patterns of Evidence: The Exodus, and participate in a Q&A at Watford Village Hall on Saturday 29th October at 7pm
Booking
PLEASE NOTE THIS IS A TICKET ONLY EVENT. Admission is free but places are limited to 70, so book early to avoid disappointment. A collection plate will be available to  help with expenses.
Tickets are available on this link – please print and bring with you on the evening.
You can view a preview of the Movie here.
OMEGA COHORT #5: WATFORD VILLAGE HALL
We will be commencing a new cohort in early 2017. Please watch the website for details.
OMEGA COHORT #4 – ICEJ UK TEACHING SEMINAR – UNDERSTANDING PROPHECY – BILLINGE FAMILY CHURCH WIGAN
Directions: Billinge Family Church, Wigan
Modules 5 & 6: Saturday 23rd April 2016 – 9.30am – 5pm
Module 5 – War on the Saints
Module 6 – Geography & Judgment
Future module dates to be advised. Contact us for further information.
UPCOMING – OMEGA COHORT #3: ST GILES Church Centre – NORTHAMPTON
The next programme cohort will commence September 2015 at St Giles Church Centre, Northampton. Please email us via the website to register your interest. It will help us gauge the demand if you could register early, although there is no formal booking requirement. There is no admission charge.
Saturday afternoons 1.30 – 5pm.
Modules 0/1 – Gateway / The Spine of Prophecy 26th September 2015 – 1.30pm
Module 2 – The Key to Revelation – 31st October 2015 – 1.30pm
Module 3 – The Gathering Storm – 21st November 2015 – 1.30pm
Module 4 – Chosen people – Promised land – 12th December 2015 – 1.30pm
Module 5 – War on the Saints – 16th January 2016 – 1.30pm
Module 6 – Geography & Judgment – 13th February 2016 – 1.30pm
Module 7 – Thy Kingdom Come #1 – 12th March 2016 – 1.30pm
Module 8 – Thy Kingdom Come #2 – 9th April 2016 – 1.30pm
Module 9 – End-Time Survivor – 7th May 2016 – 1.30pm
Module 10 – Capstone – 11th June 2016 – 1.30pm